| | |
| --- | --- |
| Category | ELISA Kit |
| Prices | $720.00 |
| Sizes | 1 plate |
| Sensitivity | 0.277 ng/ml |
| Range | 0.625-40 ng/ml |
| | |
| --- | --- |
| Category | ELISA Kit |
| Prices | $780.00 |
| Sizes | 1 plate |
| Sensitivity | 0.116 ng/ml |
| Range | 0.625-40 ng/ml |
| | |
| --- | --- |
| Category | Assay Kit |
| Prices | $599.00 |
| Sizes | 1 kit |
| | |
| --- | --- |
| Category | ELISA Kit |
| Prices | $522.00 |
| Sizes | 96 t |
| Sensitivity | 0.094 |
| Range | 0.156-10ng/mL |
| | |
| --- | --- |
| Category | ELISA Kit |
| Prices | $720.00 |
| Sizes | 96 t |
| Sensitivity | 0.115ng/mL |
| Range | 0.312-20ng/mL |
Category
ELISA Kit
Prices

$535.00

, $735.00
Sizes
48 t, 96 t
Category
ELISA Kit
Prices

$495.00

, $695.00, $696.00, $699.00
Sizes
48 t, 96 t, 5 x 96t, 10 x 96t
| | |
| --- | --- |
| Category | ELISA Kit |
| Prices | $585.00 |
| Sizes | 96 t |
| | |
| --- | --- |
| Category | ELISA Kit |
| Prices | $504.00 |
| Sizes | 96 t |
| | |
| --- | --- |
| Category | ELISA Kit |
| Prices | $585.00 |
| Sizes | 96 t |
| | |
| --- | --- |
| Category | ELISA Kit |
| Prices | $585.00 |
| Sizes | 96 t |
| | |
| --- | --- |
| Category | Antibody Pair |
| Prices | $610.00 |
| Sizes | 1 set |
| | |
| --- | --- |
| Category | Antibody Pair |
| Prices | $610.00 |
| Sizes | 1 set |
| | |
| --- | --- |
| Category | Antibody Pair |
| Prices | $610.00 |
| Sizes | 1 set |
| | |
| --- | --- |
| Category | ELISA Kit |
| Sensitivity | 0.10 ng/mL |
| Range | 0.16—10 ng/mL |
| | |
| --- | --- |
| Category | CLIA Kit |
| Sensitivity | 18.75 pg/mL |
| Range | Average Recovery (%) |
Category
ELISA Kit
Prices

$250.00

, $495.00, $710.00, $2,705.00, $5,145.00
Sizes
24 -strip-wells (Limit 1), 48 -strip-wells, 96 -strip-wells, 5x96-strip-wells, 10x96-strip-wells
Sensitivity
The minimum detectable dose of human ACO1 is typically less than 15.6 pg/ml. The sensitivity of this assay, or Lower Limit of Detection (LLD) was defined as the lowest protein concentration that could be differentiated from zero. It was determined the mean O.D value of 20 replicates of the zero standard added by their three standard deviations.
Range
62.5 pg/ml-4000 pg/ml.
| | |
| --- | --- |
| Category | ELISA Kit |
| Sensitivity | The minimum detectable dose of this kit is typically less than 0.277ng/mL. |
| Range | 0.625-40ng/mL The standard curve concentrations used for the ELISA's were 40ng/mL, 20ng/mL, 10ng/mL, 5ng/mL, 2.5ng/mL, 1.25ng/mL, 0.625ng/mL |
| | |
| --- | --- |
| Category | ELISA Kit |
| Sensitivity | The minimum detectable dose of this kit is typically less than 0.116ng/mL. |
| Range | 0.313-20ng/mL The standard curve concentrations used for the ELISA's were 20ng/mL, 10ng/mL, 5ng/mL, 2.5ng/mL, 1.25ng/mL, 0.625ng/mL, 0.313ng/mL |
| | |
| --- | --- |
| Category | ELISA Kit |
| Sensitivity | Request Information |
| Range | Request Information |
| | |
| --- | --- |
| Category | ELISA Kit |
| Sensitivity | The minimum detectable dose of this kit is typically less than 0.277ng/mL. |
| Range | 0.625-40ng/mL The standard curve concentrations used for the ELISA's were 40ng/mL, 20ng/mL, 10ng/mL, 5ng/mL, 2.5ng/mL, 1.25ng/mL, 0.625ng/mL |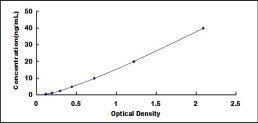 | | |
| --- | --- |
| Category | ELISA Kit |
| Prices | $580.00 |
| Sizes | 1 kit |
| Sensitivity | 0.1 ng/mLng/mL |
| Range | 0.16~10 ng/mL |
| | |
| --- | --- |
| Category | CLIA Kit |
| Prices | $722.50 |
| Sizes | 1 kit |
| Sensitivity | 18.75pg/mL |
| Range | 31.25-2000pg/mL |
| | |
| --- | --- |
| Category | ELISA Kit |
| Prices | $590.00 |
| Sizes | 1 plate |
| Sensitivity | 0.094 ng/ml |
| Range | 0.625-40 ng/ml |
| | |
| --- | --- |
| Category | ELISA Kit |
| Prices | $655.00 |
| Sizes | 96 t |
| Range | 0.156-10 ng/mL |